Longtime credit union advocate and volunteer, William O. "Bill" Noll passed away earlier this month at the age of 91. Bill served the Nebraska credit union movement for over 40 years.
Bill's credit union service included:
Past Board President, and Director of Nebraska Energy Federal Credit Union (formerly NPPD Employees Federal Credit Union), Columbus, Nebraska.
Past District VII Director for the Nebraska Credit Union League (1975-1981, 1987-1993)
Past Chair, Nebraska Credit Union League (1980-1981).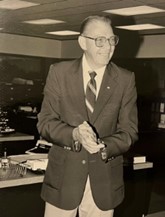 In 1993, Bill was presented the Nebraska Credit Union League's "Builder Award". The Award represented the highest honor bestowed upon any individual or organization in Nebraska's credit union movement. Created in 1985, Bill was only the third recipient.
"Bill was a true credit union pioneer in the credit union movement, believing strongly that the credit union should be a leader in serving the community. He spent nearly half of his life giving his time and talents to an industry that he loved. His passion, dedication, and pursuit of credit union excellence will be missed," said Nebraska Credit Union League President/CEO Scott Sullivan.