State Senator Mike Flood is running to represent Nebraska's 1st Congressional District in Congress and met with credit union leaders located in the district. Flood announced in January that he would challenge Congressman Jeff Fortenberry for the Republican Party's nomination. Congressman Fortenberry was facing a federal indictment of lying to the FBI about an illegal campaign contribution and was convicted in mid-March. Fortenberry resigned on March 31st following the conviction leaving the seat vacated and requiring a Special Election. Governor Ricketts announced that the Special Election to fill the vacated seat would occur on June 28th. The Democrat Party nominated State Senator Patty Pansing-Brooks and the Republican Party nominated State Senator Mike Flood.
Nebraska's Primary Election will be held on May 10th where both parties' candidates will vie for their respective party's nomination to serve the two-year term beginning in January of 2023. On June 28th, Pansing-Brooks and Flood will go head-to-head to fill out the remainder of former Congressman Fortenberry's term which expires in January of 2023. It is likely that they will again go head-to-head in the General Election this November.
During the visit, credit union advocates explained the credit union difference and discussed several federal issues including the benefits of the federal tax exemption for credit union members and all consumers. Advocates discussed how burdensome regulations negatively impact credit unions and that Congress and federal regulatory agencies should avoid limiting products and services that credit union members want and utilize through their credit union.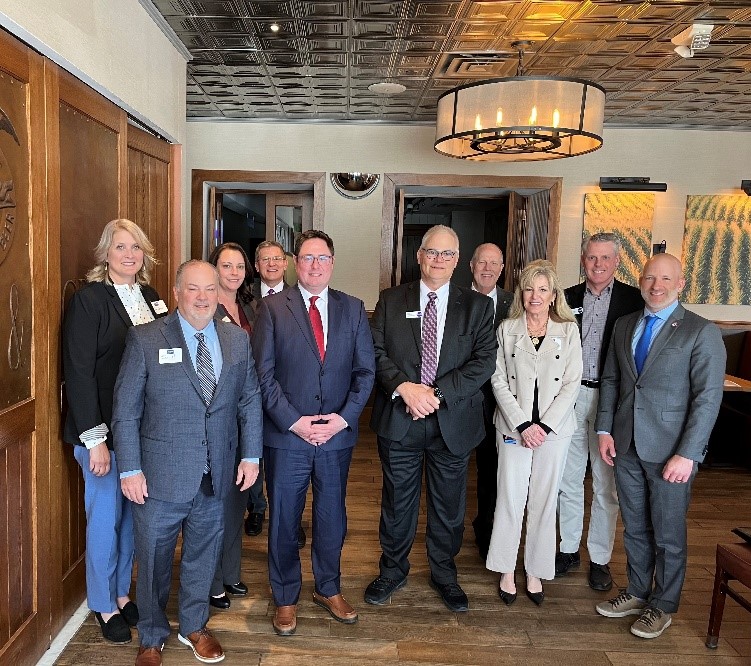 Pictured (L-R): Linda Carter, Scott Sullivan, Angie Schreiner, Keith Kauffeld; Mike Flood; Steve Edgerton; Brian Christensen; Julie Haney; Steve Swanstrom; Brandon Luetkenhaus.