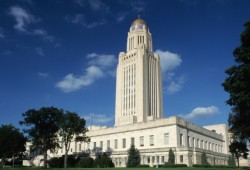 The 107th Nebraska Legislature adjourned Sine Die on April 20th marking the end of thirteen Senators' time in the Legislature due to term limits or opting not to run for re-election. The sixty-day session was filled with filibusters' and rancor but in the end, Senators were able to pass many bills including historic tax cuts, allocated over $1 billion in American Rescue Plan Act funds, lake development and water recreation projects, and a balanced budget.
The League successfully opposed a bill (LB 1255) introduced by Omaha State Senator Justin Wayne that would have transitioned state-chartered credit unions from paying the Financial Institution's Franchise Tax to the Corporate income tax. The League opposed the bill arguing that it would significantly increase the tax burden on not-for-profit credit unions but also that a major flaw in the bill as written would have exempted fifty-seven banks designated as Sub-Chapter S corporations from both the franchise tax as well as the corporate income tax. The bill did not advance out of the Revenue Committee.
The League successfully supported several bills that included LB 707, LB 738, LB 750, and LB 1069. LB 707 was the Banking Department's omnibus bill and included the state "wild card" or parity provision for state-chartered credit unions. LB 738 was the LIBOR Transition Act and ultimately was amended with several other bills onto LB 707 which ultimately passed and was signed by Governor Ricketts. LB 750 was the omnibus bill of the Department of Motor Vehicles which in part expanded the definition of motor vehicle to include ATV's, UTV's, and trailers for the purposes of Transfer on Death (TOD) on certificates of title. LB 1069 extended the Rural Workforce Housing Investment Act and increased the maximum construction costs of owner-occupied units from $275,000 to $325,000 and rental units from $200,000 to $250,000.
The League tracked thirty-one (31) legislative bills and resolutions in the Second Session as well as thirty-seven (37) in the First Session of 2021.