Continually communicating with credit union members is the norm for credit unions. Whether it be to inform members of the great products and services that are available at the credit union, issues surrounding a member's account, or the latest news of the credit union. Nebraska credit unions are also communicating with their members on key legislative issues including most recently the IRS Reporting proposal being considered by Congress because of the negative impacts that the proposal would have on the credit union and its' members. More than 5,000 credit union members have directly contacted Nebraska's Congressional Delegation urging their opposition to the IRS Reporting proposal being considered by the Biden Administration and Democrats in Congress. Many of those contacts are due to the MAP program.
Several years ago, the Credit Union National Association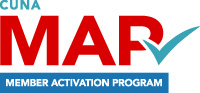 (CUNA) created the MAP program which aims to assist credit unions in educating their members on key issues such as "Don't Tax My Credit Union", merchant data breaches, the IRS Reporting proposal, and many more. Additionally, there are also communications that can help to educate credit union members on such topics as the "credit union difference" or what members can expect in COVID relief. The MAP program is a turn-key program whereby participating credit unions are provided with a pre-written, yet customizable, communication that the credit union can send out to their members from the credit union. It's important to note that as a MAP participant, your credit union can choose which issues are important to your credit union and worthy of you sending to your membership. Again, you can choose the topics that best fit your credit union and customize the pre-written message to best fit your credit union.
What we know is that members trust their credit union and a message that provides education on a topic and allows the member to take action, when applicable, is best coming from their trusted credit union. If your credit union is interested in joining the MAP program, it is free and very easy to do. Simply click on this LINK, scroll about two-thirds of the way down the page, and simply complete your contact information on behalf of the credit union. Once you have completed the contact information and hit submit, CUNA's MAP team will contact you to get started. It's that easy. We have many credit unions that are utilizing this voluntary member education program with great success, and we want to ensure that all Nebraska credit unions are aware of its availability.
If you have any questions on the MAP program, please don't hesitate to contact Brandon Luetkenhaus at the League office. Additionally, if you would like to talk directly to a local credit union CEO that has experience with the MAP program, the League can help getting you in contact with them.