Credit union advocates met with State Senator Terrell McKinney who represents Legislative District 11 in north Omaha. Along with League representatives, Steve Edgerton and Frances Hunter of Centris FCU met with Senator McKinney to talk about the credit union difference,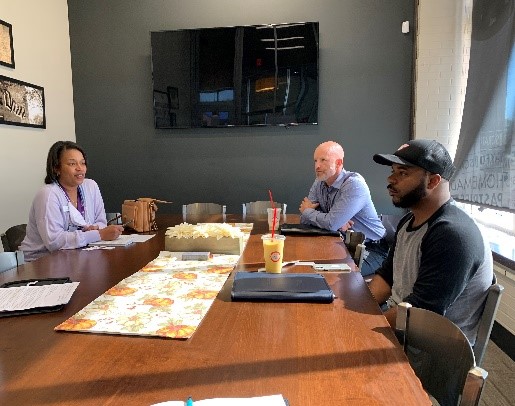 how Ms. Hunter and her team are serving the people in LD 11, and how credit unions could be a partner with local schools to help teachers with newly enacted legislation that requires financial education to be taught in grades K-12. Senator McKinney introduced Legislative Bill 452 which was passed by the Legislature earlier this year and signed by Governor Ricketts.
In discussing the impetus for the bill, Senator McKinney said that it was his own past financial experiences in college that had led him to the idea. He believes that financial education at an earlier age will better prepare students to make key financial decisions regardless of whether they go on to college or go into the workforce. Mr. Edgerton suggested that credit unions have financial experts, and those experts could be a good fit for teachers seeking speakers on the various topics that are key to a robust financial education program for children of all ages.
Ms. Hunter leads the Centris FCU branch at 48th and Ames in Omaha and provided Senator McKinney insight on the opportunities and the challenges facing their members. Ms. Hunter has been with Centris FCU for twenty years and has served at multiple locations of the credit union. "It's credit union experts like Frances that are key assets, not only to credit unions but also to our lawmakers and teachers, when it comes to financial literacy," said Scott Sullivan, CEO of the League.