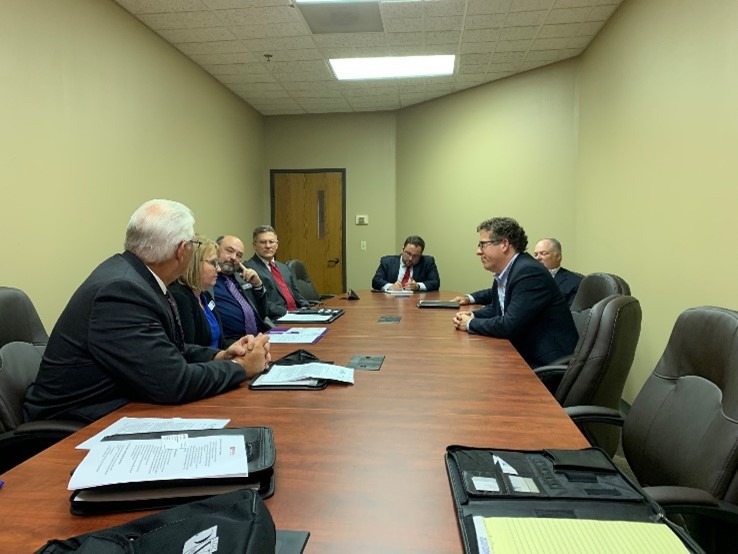 The Nebraska Credit Union League (League) and credit union advocates met with Congressman Adrian Smith on September 1st in Grand Island, Nebraska to discuss several important issues of concern to credit unions and their members. The League was joined by credit union advocates from Archer Cooperative CU, University of Nebraska FCU, and Centris FCU. The pressing issue that the advocates stressed with Congressman Smith was their opposition to a provision being considered in the $3.5 trillion infrastructure reconciliation bill pushed by the Biden Administration that would require credit unions to file what is being called an enhanced IRS 1099-INT form on member accounts. The provision is being touted by its supporters as a "pay for" for the $3.5 trillion bill. Financial institutions would be required to annually report the gross inflows and outflows of both personal and business accounts which hold $600 or more at the financial institution. "This provision is not only overtly burdensome to credit unions, but it is without merit," said Brandon Luetkenhaus, Chief Advocacy Officer of the League. "We have deep concerns with the cost that credit unions would bear, the wasted time that would be spent on this, and the invasion of personal privacy that this proposal would bring," said Luetkenhaus.
Congressman Tom Emmer of Minnesota penned a letter to House Leadership, the Treasury Department, and the IRS opposing the provision. Following the meeting with Congressman Smith in Grand Island, Congressman Smith signed on to the Emmer letter in opposition to the IRS provision. The League has been in constant contact with Congressman Bacon and Congressman Fortenberry's office, and both have joined Congressman Smith and others to be signers to the Emmer letter. "We are extremely grateful to Congressman Smith, Congressman Bacon, and Congressman Fortenberry for their strong support of Nebraska's credit unions and their members" said Scott Sullivan, President/CEO of the League.
CUNA has issued a MAP communication that credit unions can utilize to educate their members on the issue and an Action Alert to garner opposition to the provision. If you would like to become a MAP credit union or learn more about MAP, click HERE.