All good things must come to an end… and be replaced by something better!
The all-new InfoSight is coming soon! A more streamlined design, easier to navigate site that is packed with great compliance information, an interactive dashboard, and more state-specific content!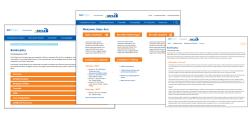 What can you expect in the new InfoSight?
Interactive Dashboard
Customize "Topics of Interest" and "Recently Updated" to quickly access and review updates about those compliance areas – and only those areas – that are important to you. Pick up where you left off with the "Recently Visited Areas" listing!
Consolidated Compliance Information
We've always had great compliance information, but the new site will compile all the information in one place. For each compliance topic, learn what the compliance issue is, how it affects credit unions, and what your credit unions need to do about it. Easily view (and print) all information
FAQs and Checklists
More than 70 checklists are available for various compliance topics credit unions can use to see if a regulation affects them. Frequently Asked Questions (FAQs) provide useful answers to common questions on various topics.  The new site has consolidated FAQs into a searchable database to make finding answers easier than ever!
Compliance Calendar
Stay on top of upcoming effective dates and compliance due dates with our Compliance Calendar! The calendar is now available right from the dashboard so you have a front-row view of what's coming up.
Compliance Videos
InfoSight's Compliance Connection videos provide condensed overviews of timely regulatory topics that can help your credit union and board of directors understand and stay informed on compliance changes. Access the videos quickly from the links in the page header.
State Compliance Content
Our new site will have more state-specific content than ever! And we are developing the site to help state content stand out so it's easier to find and help identify how state laws and regulations may impact your credit union. 
It's Free!
Don't forget that InfoSight is provided as a FREE resource for Nebraska Credit Union League member credit unions! If you haven't been taking advantage of InfoSight, now is the time to get set up so you are ready when the new site launches! If you need login information, contact Amy Shaw, ashaw@nebrcul.org.
Questions on Compliance related issues?  Contact Dan Collins, dcollins@nebrcul.org.