Do you know Millennium Corporate has an e-Newsletter called The Corporate Scoop? Do you know it's filled with all matters Millennium Corporate? Do you wish you received it? Email marketing@millenniumcorporate.org and we'll make that wish come true!
Here's a snippet of the most recent Corporate Scoop –
Adding Assets
Millennium Corporate spent the early summer months of this year in search of the perfect candidate to join our Marketing team. As luck would have it, we found the perfect CANDIDATES! That's right – two employees joined the Millennium Corporate team in late August – Bob Jewett and Brittney Weis.
If Bob hadn't landed this perfect job, he's certain he would be a race car driver. Vroom Vroom. And Brittney, she prefers two wheels…a bicycle is where you'll find her in the early AM except hers is stationary and sits inside the YMCA.
Each bring a new perspective and enthusiasm to Millennium Corporate. Bob comes to us from the insurance industry, having managed a Shelter Agency. Brittney most recently worked remotely with a non-profit in St. Louis, MO, Mighty Oakes Heart Foundation. Both were hired as Business Development Associates and their roles will have them out visiting with credit unions to learn how Millennium Corporate can better serve your needs.
Contact information for Bob & Brittney is provided below. They'd love to hear from you. Thank you for welcoming them to our family.
Bob Jewett – bob@millenniumcorporate.org | 800.721.2677 ext. 112
Brittney Weis – brittney@millenniumcorporate.org | 800.721.2677 ext. 110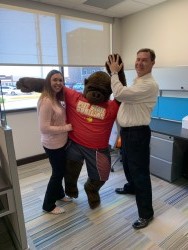 Millennium E-Updates
If you aren't aware, we've recently added Weekly and Monthly Economic Reports to our website. Skip on over to the Millennium Corporate Home Page – www.millenniumcorporate.org. Directly below the scrolling banner ad you'll see Read our Economic Reports. Click either button to be directed to Economics Heaven.
In addition, we've created an online library of our recent webinars. We've hosted CUBGs Fast Track, AIM – A Virtual Tour and Get Loan Participation Savvy with LoanStreet. Many credit union representatives were able to attend the live session but knowing not everyone walks the same path, we've recorded and made them available to credit unions via My Millennium, our secure portal for member credit unions.
And Speaking of LoanStreet–(Bad segue, sorry.)
On July 9, 2019, the five-county area surrounding Kearney, Nebraska, experienced unprecedented flooding. The flooding affected several Trius FCU members, employees and even one of their branches. Trius immediately went into Disaster Recovery Mode. And LoanStreet helped.
To get the full scoop on the LoanStreet/Trius FCU partnership, jump on over to the Millennium Corporate website – www.millenniumcorporate.org – and visit the Communications Page. You'll find more on these topics and other matters, too.
For questions or needs, please email marketing@millenniumcorporate.org