Wednesday, September 18th – Tanisha Lewis, District Representative for Congressman Jeff Fortenberry visited Liberty First Credit Union in Lincoln to tour the credit union and hear about how the credit union is having a positive impact on its credit union members and the community at large.Liberty First's President/CEO Frank Wilber and SVP of Marketing Angie Schreiner recounted the stories of several of their members who leaned on the credit union to navigate them through difficult situations in their financial lives.  One story in particular was of a female member whose husband suddenly passed away leaving her with two high school children and no experience with the family finances. She described in her hand-written letter that the staff at Liberty First "patiently and repeatedly tutored" her to catch up with what she needed to do and said they still today are teaching her how to manage the family finances.  She credits the credit union for helping her to grieve knowing that the credit union was there to help her through the financial stress.
Some other stories described during the visit included:
–An elderly member couldn't figure out why his checkbook didn't balance but he couldn't drive to the credit union to ask for help so a staff member of the credit union would go to the nursing home where he lived to help him balance his checkbook.
–A Spanish speaking member and her daughter needed a $5,000 loan to make home repairs. The credit union made her the loan and helped her to clean up her finances by alerting her to a small collection she had on her record which she then paid off, consolidating her debts for a more manageable payment, refinanced her auto loan with a lower interest rate, and eventually helped the member and her husband open a business account at the credit union to start their new small business.
–Utilizing the Rural Development's Guaranteed Rural Housing loan program, the credit union helped new parents buy a home in the Seward area closer to home, so they didn't have to commute ninety minutes each way to work.
–Credit union employee helped a local business find a family in Seward in need of a brand-new furnace. The couple that received the free furnace used only space heaters to heat their home.  The wife worked for the local nursing home and her husband was disabled and unable to work.  Her co-workers all wrote applications for the couple as they described her having a "heart of gold".
–A couple with not good credit needed to replace their broken-down car but could not get financing from a dealership. They received help from the credit union to purchase a replacement vehicle and the member describes how the credit union helped them to get out of credit card debt by consolidating the debts into one payment.
–The credit union operates five (5) in-school branches throughout the Lincoln area. They provide financial education to members and non-members in the community through a partnership with Community Action.  They provide shred days, so members and non-members can take a step to securing their financial data by shredding sensitive personal documents.  They host four seminars a year covering fraud protection, credit building, technology, home buying and more. They provide "Liberty City Life Exercise" to local schools to provide financial education to the students in a life simulation.
"Credit unions everywhere have stories like these that are a daily occurrence.  These stories don't seem out of the ordinary to us in the credit union space because this is what credit unions have done and do every single day.  We need to remind ourselves however that stories like these are not common place in the market and we need to do a much better job of telling our stories" said Brandon Luetkenhaus, Chief Advocacy Officer for the Nebraska Credit Union League.  The League will be working with Nebraska credit unions to compile member stories in print and in video testimonials in the coming months.  If you have a great story you'd like to tell, contact Brandon Luetkenhaus at 402-333-9331 x. 202 or e-mail at brandon@nebrcul.org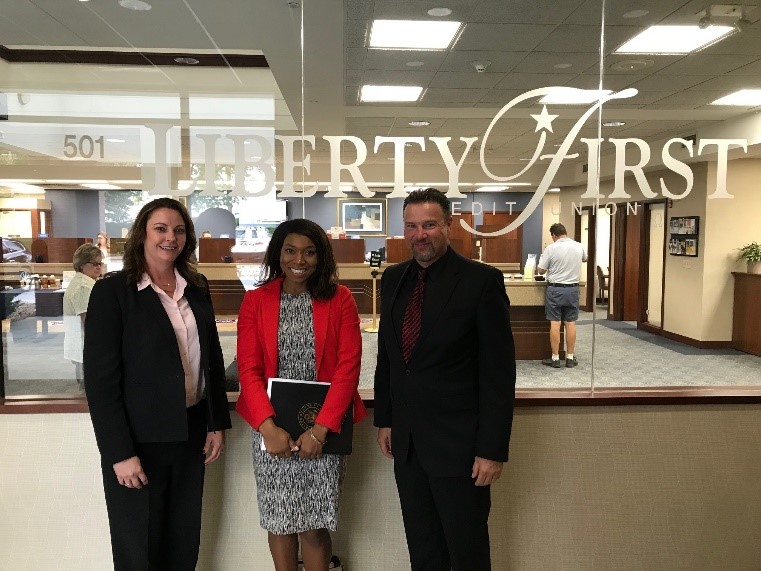 Pictured (L-R): Angie Schreiner, Liberty First CU; Tanisha Lewis, Rep. Fortenberry's Office; Frank Wilber, Liberty First CU.