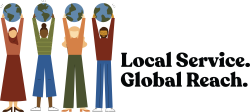 Help us celebrate 2019 ICU Day!
October 17, 2019 
Engage your staff and members with this year's 'Local Service. Global Reach.' theme by utilizing our ICU Day gear and customizable assets.
Bring ICU Day to your credit union with the help of:
Discover new ways to celebrate ICU Day at your credit union with inspiration from other credit unions and how they celebrated in 2018. Together we're changing lives and communities across the globe – we hope you'll join us again in celebrating ICU Day.