The Nebraska Credit Union League is happy to announce a partnership with Venly. Venly is a social enterprise based in Cambridge, Massachusetts focused on helping local businesses grow using social media and community outreach. Specifically, Venly has been working to support Chambers of Commerce and Credit Union communities in Central Massachusetts in advance of a national campaign to uplift local businesses across the US launching in 2020. Below you'll see a testimonial from a $45 million credit union in one of our sister associations talking about the benefits experienced from a focus on this outreach.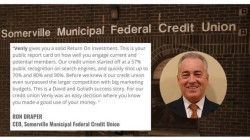 The NCUL is collaborating with Venly to offer a FREE 30-minute Best Practice Session customized to each credit union. In this specialized session, a recent graduate or returning veteran who is doing a one-year Venly Fellowship will provide an analysis of your current digital presence. Venly will also provide actionable suggestions for improvements based on best-in-class benchmarks across credit unions. If desired, the Fellow can provide continuing monthly support through Venly at a minimal cost.
To get the no-cost session on your calendar, you can schedule the time directly with Venly now through the following link: https://www.venly.com/schedule-best-practice-session/.
As we embark on our "Open Your Eyes" campaign, Venly will be collaborating with the NCUL on a leaderboard of all of our credit unions. The leaderboard ranks every member (regardless of asset size) against 100 best practice benchmarks. Ultimately the goal is to lift all NCUL members to 100% on their outreach and engagement as soon as possible!