Credit Union National Association (CUNA) recently announced the expansion of its category-level brand campaign, Open Your Eyes to a Credit Union®, to four new states: Arizona, Nebraska, West Virginia and Vermont. Today's launches bring the total number of states where the campaign is live to thirteen.
"We're thrilled to bring Open Your Eyes to a Credit Union® to more consumers across the country," said Chris Lorence, CUNA Chief Credit Union Awareness Officer. "From our first launch in January 2019 to now, we've launched thirteen states. We've come a long way! Thank you to California and Nevada Credit Union League, Mountain West Credit Union Association, Nebraska Credit Union League, West Virginia Credit Union League, and Association of Vermont Credit Unions and all the credit unions whose support is driving this campaign."
Open Your Eyes to a Credit Union® is part of the CUNA-led Awareness Initiative that is working to increase consumer consideration of credit unions. It is a category-level, strategic marketing effort that has financial pledges of $42 million from over 640 organizations within the credit union movement. The campaign first launched in January and is now live in Arizona, Indiana, Kansas, Michigan, Minnesota, Missouri, Nebraska, North Carolina, North Dakota, South Carolina, South Dakota, Vermont and West Virginia.
CUNA is working with Leagues to fundraise for Open Your Eyes to a Credit Union® and build support for the Awareness Initiative. The early successes of this effort are the result of coordination and enthusiasm from across the credit union movement.
As of August 23, Open Your Eyes to a Credit Union® had gained over 186 million impressions and earned 27.6 million video views from start to finish. It had reached 6.7 million through programmatic advertising, 5.1 million on social media, and 3.2 million on YouTube.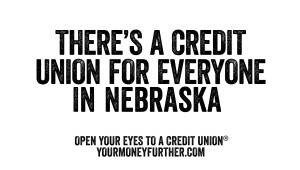 ##About CUNA:
Credit Union National Association (CUNA) is the only national association that advocates on behalf of all of America's credit unions, which are owned by 115 million consumer members. CUNA, along with its network of affiliated state credit union leagues, delivers unwavering advocacy, continuous professional growth and operational confidence to protect the best interests of all credit unions. For more information about CUNA, visit cuna.org. To find your nearest credit union, visit YourMoneyFurther.com.