Tw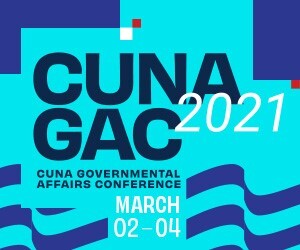 o weeks after last year's CUNA GAC, the country began closing schools, businesses, and urging social distancing. What we did not realize was what the remainder of 2020 had in store for us. It would look very different with lobbies closed, virtual meetings replace face to face meetings, annual meetings postponed and go virtual, examinations went remote, and some of those changes appear to be here to stay for at least a while.
This year's CUNA GAC went virtual for the first time ever along with virtual Hill visits with members of Congress.  Nebraska's credit unions met virtually with Congressman Adrian Smith and Congressman Jeff Fortenberry and their staff on March 4th.  "Advocacy requires adaptation and the ability to shift in changing environments.  Virtual meetings with lawmakers and regulators is not ideal but the silver lining is that it does allow for more participation from credit union advocates that might not otherwise be able to travel for face to face meetings," said Brandon Luetkenhaus chief advocacy officer at the Nebraska Credit Union League.
Nebraska credit unions also meet with U.S. Senator Ben Sasse and Congressman Don Bacon on March 9th.  During the virtual Hill visits, credit unions voiced their concern that the pendulum might swing back to one-size-fits-all regulation and a "gotcha" mentality.  President Biden's nominee to be the new director of the powerful Consumer Financial Protection Bureau recently stated that "if confirmed, he would likely return the bureau to aggressively fine and penalize companies for bad behaviors."  Advocates pointed out that credit unions by structure are protectors of their members/owners. The CFPB and the National Credit Union Administration have both indicated that consumer protections would be a top priority of the agencies.  The advocates also discussed the proposed minimum wage and the impact artificially raising it at the federal level could have on credit unions and especially small credit unions. They provided evidence of the impact that credit unions are having on the communities that they serve and how credit unions adapted to the health directives to ensure that they could continue to serve their members in a safe way for both the members and credit union team members.  They urged enhancements to the credit union charter including allowing more Americans to be served by credit unions, allowing credit union boards to expel disruptive members, and allowing the NCUA to expand loan maturity limits beyond 15 years.