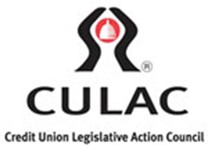 In 2021 there will be a new President, a Congress with thinner majority margins, and a state Legislature with eight new members and a vastly different Banking Committee. It's imperative that we start off on the best footing possible and WE NEED YOUR HELP to do just that. Make a Contribution Today online to CULAC/NCULPAC, the PACs of Nebraska's credit unions!
Our credit union PACs play an essential role by enhancing our advocacy efforts at all levels of government throughout the year. Credit unions are in an enviable position politically because of the nearly 100 years of credit union's fighting for what we believe in. We have strong bi-partisan support, which is tough to do these days, because of credit union leaders like yourself. Consider this, in the 2020 election 97% of the candidates for Congress that CULAC supported won their races. This includes CULAC financially supporting Nebraska's three Congressmen and two US Senators with the maximum contribution allowed under law.  Additionally, credit unions stepped up in a big way for Congressman Bacon with a supportive ad campaign that spoke directly to 70,000 Omaha area credit union members.
There are many industries that simply hope government will understand them and "do the right thing" for them when legislation is drafted, debated, and enacted. The credit union industry is not, and has never been, in those numbers. The work of credit unions is far too important for any of us to sit idly by hoping that government will do the right thing by credit unions. We have always stood for credit unions and the members we serve.  Keep it going!